no comments
Categories:
Tags:
Abuse of the legal aid system by lawyers and lawfirms!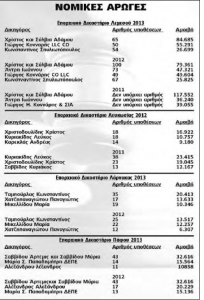 "Politis" newspaper in its Sunday edition 16/03/2014, discloses the names of lawyers and law firms whose clients applied and were approved for legal aid.
Legal aid is available in Cyprus to litigants that fulfill certain income criteria. It is based on the human right that access to court should be open to everybody, even to those that do not afford to pay a lawyer.
It is clear, however, that the system is vulnerable and signs of abuse are observed since, from the evidence, legal aid is awarded to a handful of lawyers in each district.
The report, written by Yiannis Nearchou, presents the list of lawyers and law firms in all districts for the years 2011, 2012 and 2013 whose clients were awarded legal aid. The matter has drawn the attention of the Supreme Court and the Cyprus Bar Association who are reported to support the position that the legal aid system should be reviewed.
Whether there will be any real change it remains to be seen.